OTHER NOTABLE HEADLINES... [go to page 2]

2004 Olympic results for Poland: As of Wednesday, 9/1/04, Poland has 10 medals (3 gold, 2 silver, 5 bronze). Below are the events Polish atheletes participated in with medals won shown. **NEW** Click here to see medals won by Poland at all the previous Olympics.


Archery: Womens Team
Athletics: Mens 4 x 100m Relay
Athletics - Men's 50km Walk (** GOLD! to Robert KORZENIOWSKI)
Athletics - Women's Pole Vault (** BRONZE! to Anna ROGOWSKA)
Athletics: Women's Team
Athletics: Men's Team
Badminton: Mens Doubles
Canoe/Kayak Flatwater: Mens K2 500m
Canoe/Kayak Flatwater: Mens K4 1000m
Canoe/Kayak Flatwater: Mens C2 1000m
Canoe/Kayak Flatwater: Mens C2 500m
Canoe/Kayak Flatwater - Women's K2 500m (** BRONZE! to Aneta PASTUSZKA and Beata SOKOLOWSKA KULESZA)
Canoe/Kayak Flatwater: Womens K4 500m
Canoe/Kayak Slalom: Mens K1 Kayak Single
Canoe/Kayak Slalom: Womens K1 Kayak Single
Canoe/Kayak Slalom: Mens C2 Canoe Double
Canoe/Kayak Slalom: Mens C1 Canoe Single
Canoe/Kayak Slalom: Mens C1 Canoe Single (Team: 2)
Cycling Track: Mens Team Sprint
Equestrian: Mixed Team
Fencing - Women's Individual Foil (** BRONZE! to Sylwia GRUCHALA)
Gymnastics Rhythmic: Group All-Around
Rowing: Mens Lightweight Double Sculls (** GOLD!)
Rowing: Mens Four
Rowing: Mens Double Sculls
Rowing: Mens Eight
Rowing: Womens Lightweight Double Sculls
Rowing: Mens Quadruple Sculls
Sailing - Finn (** BRONZE!)
Sailing: Mens Mistral
Sailing: Womens Mistral
Sailing: Men's Team
Sailing: Women's Team
Sailing: Men's Team
Sailing: Laser
Sailing: 49er
Swimming - Women's 200m Butterfly (** GOLD! to Otylia JEDRZEJCZAK)
Swimming - Women's 400m Freestyle (** SILVER! to Otylia JEDRZEJCZAK)
Swimming - Women's 100m Butterfly (** SILVER! to Otylia JEDRZEJCZAK)
Tennis: Mens Doubles
Table Tennis: Mens Doubles
Volleyball: Men
Weightlifling - Women's +75kg (** BRONZE! to Agata WROBEL)

Check out the latest news on our next reunion in the section below entitled "Reunion Central". Should you have any questions, don't hesitate to give "Chairwoman Judy" a call or letter.
A connection made with a blood relative in Poland!! I am very excited to share with you about my trip to Poland this past April. On April 20th I met a new "kuzyn" (cousin), who is Grzegroz Chwalik of Wroclaw, Poland. We only met for a short while but have kept in connect via e-mail. Click here to view some photos from my time in Poland!
Poland's Nobel Laureate Milosz Dead at 93: WARSAW (Reuters, Sat Aug 14, 6:48 AM ET) - Poland's Nobel Prize-winning emigre poet, Czeslaw Milosz, died Saturday at his home in the southern Polish city of Krakow at the age of 93, Polish media reported.

Long a symbol of opposition to totalitarianism, he received the 1980 Nobel Literary Prize for his lifelong poetic achievements amid the heady atmosphere of the Polish Solidarity movement's bold challenge to Soviet-style communist rule.

Initially a supporter of Poland's Soviet-imposed post-war regime, he served in its diplomatic corps from 1945 to 1950 before becoming disillusioned with communism and defecting in 1951.

He made his home in France before moving to the United States in 1960 where he taught literature at the University of California in Berkeley, wrote poetry and translated English literature into Polish.

In the 1990s, after Poland's largely peaceful revolution from communism to democracy he returned to Poland and settled in Krakow.


Remarks by President Bush and Prime Minister of Poland (Marek Belka) in a Photo Opportunity. (8/9/2004) Click here to read the transcript of the question and answer session.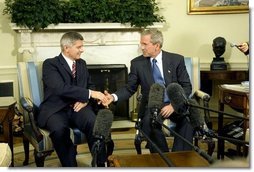 Poland in the European Union as of May 1, 2004! On June 7-8, 2003, Polish voters went to the polls to decide whether their country should join the European Union. While government officials feared the turnout would fall short of the mandatory 50 percent of eligible voters, in the end almost 60 percent cast a ballot, with 79.1 percent voting "tak" (yes) to join the European Union. Click here to learn more about the potential "Advantages and Drawbacks of European Union for Poland".
---
REUNION CENTRAL
Link to the next location, Callaway Gardens.
What to bring?? Auction items of course!!
Do you have pictures from the 2004 reunion, or other reunions? If so, get 'em to me, via e-mail or regular mail, and I'll post them into our gallery or put them into our next DVD!
If you have a personal web site, we'll add it to the Home Pages listing in the above Family Directory.